Sending Buddha back to China
Submitted by

boxbrosla

on Thu, 2014-04-17 16:05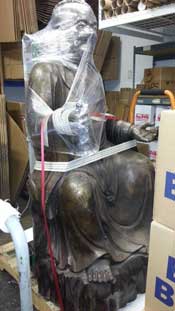 This is a 400 lb. bronze seated Buddha we are shipping for one of our best clients. They are international auctioneers of fine Chinese and Japanese art.
One of Great Britain's oldest firms of auctioneers, they were established in Manchester, England in the year 1874 and specialize in rare Imperial and Export Chinese ceramics and works of art and Japanese fine and decorative arts from the 16th-20th century. In recent years they opened a U.S saleroom with offices in Beverly Hills, California.The company has since become one of the fastest growing auction houses in Southern California, with one or two auctions conducted every month.
They use BoxbrosLA's Los Feliz store to handle all packing, crating and international shipping arrangements for pieces shipping out of their California location, including oriental art, furniture, paintings, silver, lighting, clocks, ceramics, glass and sculpture; featuring 17th to early 20th century fine arts, furnishings, and decorative works of art.
This piece, valued at $9,000, was originally made in China or Mongolia in the early 20th Century is being shipped back to a client in China. While it weighs 400 lbs., it is a delicate piece and great care must be taken to make sure it is secure for it's journey home..That's where BoxbrosLA.com comes in
Email us, or give us a call at 855 BOX BROS(269 2767) or 323 662 9000. If anyone can get it there, we can. And we do it RIGHT!