Professional Packing & Shipping Services for Art Dealers, Brokers and Auction Houses
Goodman Packing & Shipping has decades of experience working with Art Galleries, Brokers, Auction Houses and Dealers and knows how to ensure that shipping your valuable art objects goes flawlessly with your pieces arriving safely, and on time. Our relationships with partners around the world like Fedex and DHL allows us to offer you not only expedited delivery of your items, at a price that is unbeatable. Securely packing delicate, unusually shaped sculpture or paintings is one part of our expertise in art shipping, and one of many reasons signature clients choose Goodman Packing & Shipping to handle their art shipping.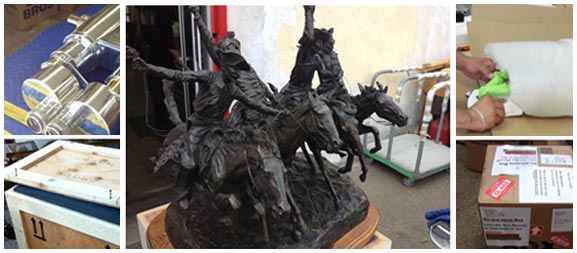 We provide:
White Glove Service
Onsite Packing/Crating
Pickup and Delivery
Dunnage Removal
Expert Packing/Crating of unusually shaped,delicate or heavy items
Ability to insure any item of any value
International Shipping and Customs documentation
Complicated Logistics
In short we provide end to end shipping solutions for brokers, auction houses, makers of art objects, boutique furniture manufacturers, artists and art dealers.